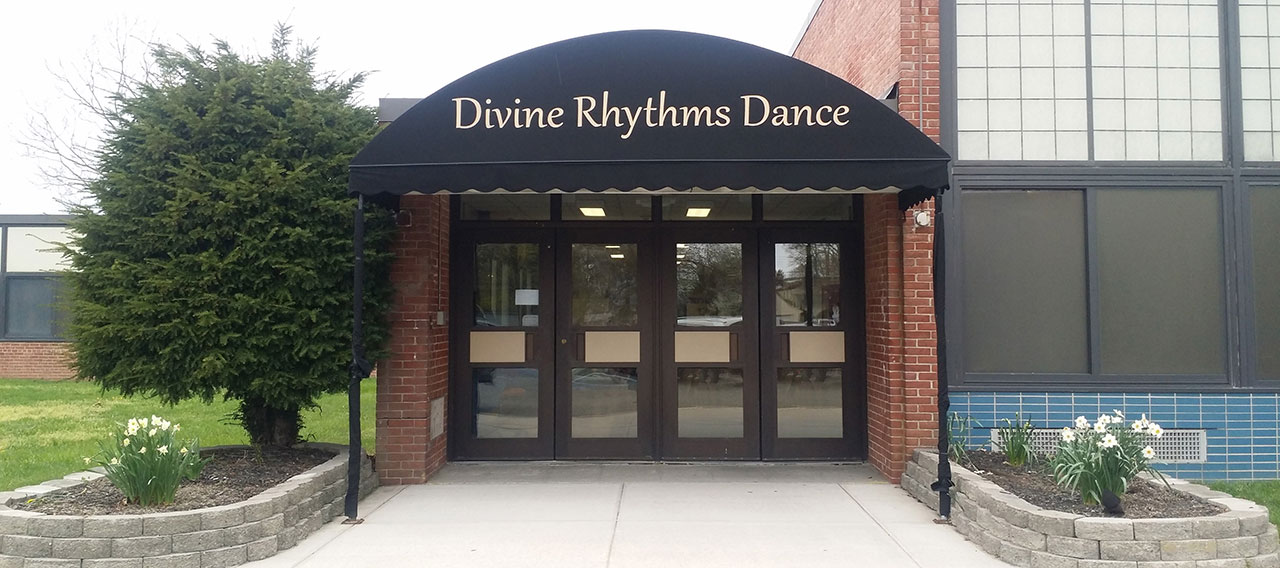 Enriching Our Community & Inspiring Others
Through Arts Education
Divine Rhythms is proud to call home 18,000 square feet of the former Westbrook Elementary School in West Islip, NY. Located at 350 Higbie Lane, our spacious arts facility offers numerous dance and art programs, all within a comfortable environment. Dedicated to furthering arts education, we offer classes daily for students ages two through teen, as well as for adults. Reach us at 631.422.3302 with any questions.
Our Facility Offers
Dance
Each of our 7 dance rooms are equipped with sprung flooring systems specifically designed to enhance performance and reduce injuries, along with mirrors and barres. We offer recreational classes daily and also have company class and competition options available.
Acro
Acro is held in our 2500 square foot room equipped with a tumbling surface, training mats, and a 30 foot tumble track. We also have uneven parallel bars, a low beam, and a variety of other Pre-K accessories. Our head coach is a former National Gymnastic Champion and has spent the last 30+ years coaching on the high school, university, and private levels.
Art
Our Arts program is complete with a wide variety of materials and supplies, including Ceramics and a kiln. Artists participate in painting, drawing, clay, and a vast array of creative crafts. We offer weekly and seasonal workshops throughout the session.
The pARTy Space
A beautiful new celebration space for your child's Art, Salon, or Diva Dance Party, equipped with table & chair covers, balloons, & more! *Stylists available for all hair needs (cut, color, keratin, braids, buns, & other salon essentials). By Appointment Only. Inquire within our Main Office.
Haley's Dance Closet
A full service dance shop for all your dance & acro needs. Authorized dealer of Capezio, Sansha, Wear Moi, Danshuz, Russian Pointe, Grishko, & more. Also offering design star options – choose your own embellishments to create a custom outfit. To reach our store directly call 631.450.4333.
Buon Appetito Cafe
Offering an extensive catering menu, salads, wraps, smoothies, coffee, beverages, healthy snacks & more! Text or Call at 631.532.7729 or email at BuonAppetitoCatering@hotmail.com.
Momentum School of Music
Voice & music lessons are taught to all ages by experienced professional performing musicians in their brand new, state of the art, music studio. Visit http://www.momentumschoolofmusic.com/ or call them directly at 631.358.4123.
House to Home Interiors
A full service interior design lab and instruction studio. Stop by or call 631.422.9181 for more information.
First Class Tutoring
Offering tutoring to all ages in all subjects, as well as SAT Prep, homework help, & essay writing. Stop by or call 516.662.9413 for more information.
Parent Lounges
We have 2 parent lounges located in our building, equipped with a TV, wifi, couches, desks, chairs, tables, & cubbies. The first is located across from room 100 and the second is outside our ballet studio. Private Outdoor Atrium: Our private outdoor atrium includes picnic tables, umbrellas, and lounge chairs.
In House Stage
Our in house theatre accommodates up to 300 people. Great for small performances or practices before our larger events.
Safety First
We have exclusive rights to the front door entrance, security doors separating Divine Rhythms & the shared hallway. Both of our entrances (front and side) remain locked at all times and are equipped with cameras and a buzzer system. Security is on staff in the evenings and on Saturdays at the front entrance while doors are unlocked.